2019 BOQ Maroochydore Celebrity Golf Classic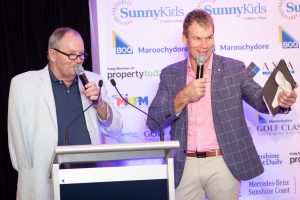 It is with great pride and pleasure that we can announce that the 2019 BOQ Maroochydore Celebrity Golf Classic 'Teeing up for Kids, SunnyKids', raised an impressive $50,012.00.
Over the 8 years this event has run, this is the 2nd highest amount this event has raised and means that we can now support between 60-80 at risk children on the Sunshine Coast to partake in the Mentoring Through Sports Program.
Run in partnership with the Brisbane Broncos, the Mentoring Through Sports program is offered at local Sunshine Coast Schools where students are able to build their confidence and accountability through 'positive self and health' with the support of former Brisbane Broncos player, Jack Reed.
We are truly grateful to everyone who was involved in preparing and enjoying this event; without you we would not have achieved such a remarkable result.
From an incredible 'jump start' with Owner Manager of BOQ Maroochydore Nicholas Barker jumping out of a plane, arriving on course via tandem skydive thanks to Skydive Noosa, to a whole host of fun on-course activities thanks to all our sponsors and the wonderful lunch-time entertainment, we were absolutely thrilled with the rave reviews of the event.
Much appreciation to our 2019 celebrities, Robert DiPierdomenico, Richard Champion, Jack Newton OAM, Jack Reed, Michael Hancock, Paul Dyer, Ali Brigginshaw and Michael O'Connor – and our entertainers Matt Hollywood and Dean Stewart, we are so grateful for your support and good humour.
To Caroline Hutchinson and the 92.7MixFM Team who every year broadcast their morning show live to support this event, thank you.