Mayoral Ball Sponsorship Spotlight.
Shining a light on our 2023 Mayoral Ball Sponsors.

Jason Garland, CEO of Secure Access IT and his team are one of the sponsors of this year's Mayoral Ball and we couldn't be happier. Having been loyal supporters of SunnyKids for two years, we've loved every moment of getting to know the wonderful humans behind one of the Sunshine Coast's most trusted Business Technology providers.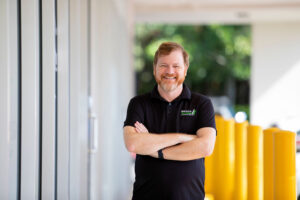 Jason founded his locally owned and operated business in 1999 and since then he has successfully established his business as one of the most trusted Business Technology providers on the Coast. This is what happens when you combine a passion for your local community with exceptional customer service. The team at Secure Access ensures the technology deployed in each business it partners with is strategically aligned with achieving the best productivity, operational and cyber security outcomes for that business.
Jason's outcome based and strategic thinking is likely what drives him to support SunnyKids. "We believe every child should have the best possible start in life in order to provide them with the best possible opportunities for a successful life and career. Our children are the future of our community and our businesses," says Jason.
SunnyKids works closely with hundreds of service providers, schools and early childhood environments on the Sunshine Coast to educate families and children on the importance of healthy relationships. We understand there's a direct correlation between early intervention and a reduction in the likelihood of intergenerational hardship and violence continuing.
"SunnyKids is different to other charities here on the Coast and it has a lot more depth to it than what you might initially think. What they do for our community is nothing short of incredible," says Jason.
At the very heart of SunnyKids, what drives us to raise awareness and educate our community about domestic and family violence, are the children. It's our responsibility as a community to educate, have the difficult conversations and provide help to those who need us most. We need to ensure our children are given the support they need to overcome adversity, so they have a chance at a better tomorrow.
"As a supporter of SunnyKids we like knowing that we had a very small part to play in helping families and children experiencing hardship have a brighter future. Hearing about the incredible work taking place in our community makes the whole team at Secure Access excited to be involved," Jason says.
Our SunnyKids supporters continue to amaze us with their generosity and commitment to our cause. We rely heavily on community support in order to continue the vital work we do in schools, early education settings and in delivering our life-saving emergency support.
"Our Sunshine Coast community is the backbone of our business and the opportunity to support and give back to the community is incredibly humbling. Through SunnyKids we can play a part in ensuring vulnerable children receive educational support, adequate health and wellbeing support and have a safe environment to live in. This contributes to their successful integration into the workforce and universities, as well as the wider community, helping to reduce future cycles of disadvantage," says Jason.
We're so incredibly grateful for our supporters and we know that together we can help make a difference to our most vulnerable in our community.
Find out more about our Mayoral Ball.