SunnyKids doubles services in the Noosa Shire
Incredible commitment from the Noosa community means the world to vulnerable individuals and families experiencing domestic and family violence.
Just a few weeks ago we were delighted to announce that SunnyKids were the grateful recipients of the Noosa Mingle with the Mayor Ball. On the night, over $280K was raised to support the increased need within the Noosa shire.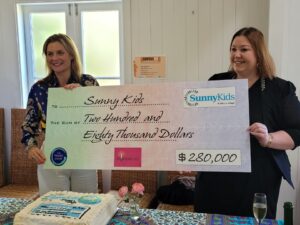 General Manager Kathleen Hope is overwhelmed with the response and believes this will make an enormous difference to vulnerable people in need of safety and support.
"This would not be possible without the hard work and tireless efforts of the Noosa Circle organizing committee and businesswoman Josanne Falla, who moved heaven and earth to bring this event together. The fabulous Kay McGrath supported the courageous lead sponsor, NOOSA4SALE Principal Alex Harris along with No more fake smiles Annie Jones to bravely share their journey with the room on the night. With so many others sharing the love for a great cause". Ms Hope said.
"SunnyKids have been working hard to support women and children experiencing violence and harm in the Noosa shire for many years. With limited resources, we have struggled to meet the need in the area and established a waiting list mid 2020 for the first time ever. We intend to immediately invest these funds into the SunnyKids Cooroy Family Support Centre by increasing the centre to full time. In addition, with the support of Noosa council, we will establish a second site in Noosa providing a fulltime counselling service to those in need. This is an absolutely fantastic result for increased services however, and more importantly, this event helped raise awareness of this important issue and the effects on children in particular living with trauma", Ms Hope said. "".
Patron Noosa Mayor -Clare Stewart highlighted the importance of the community coming together in solidarity against violence of all forms.
 "We all have a responsibility to protect those affected by violence and the Noosa community really do stand up together to make a difference. I am so proud of the Noosa community for standing up for their own and saying enough is enough" Mayor Clare Stewart said.
SunnyKids – Fast Facts 2020/2021
70% of the children SunnyKids support are from homes experiencing domestic and family violence
9,303 nights of emergency accommodation provided
1,598 individuals supported
Over 20,000 hours of direct support was provided to vulnerable children, young people and their families
If you would like more information about this topic, please contact Kathleen Hope at 0424 176 093 or email Kathleen.hope@sunnykids.org.au