SunnyKids Team Member Spotlight.
Shining a light on our incredible SunnyKids team members.
Jazz Vilnis has been a part of the SunnyKids team since 2021, starting her journey as a student and slowly working towards her current role as Team Leader – SunnyKids DFV Counselling Department. A typical day for Jazz centres around providing direct support to clients who've experienced domestic and family violence. She also oversees students doing placements with us, offering them guidance and a wealth of experience in a space that's both complicated and distressing.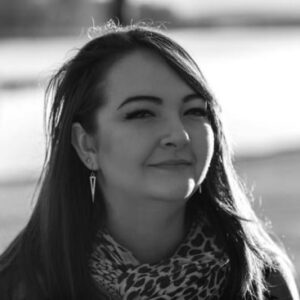 "During my typical working day, I will be checking in on safety risks and crisis updates from our service users, liaising with key stakeholders and advocating on behalf of clients. Often, I will meet our clients face-to-face to provide practical support with navigating systems or domestic violence counselling and education. I wasn't aware how passionate I would feel about the domestic and family violence space until stepping into it and understanding the impact DFV has on the community," says Jazz.
Our frontline workers operate in an environment that is unpredictable, upsetting and at times quite dangerous. There is no doubt that this can start to take a toll on the team and their overall well-being. When asked how she manages the mentally draining nature of her work, Jazz has a long list of strategies to help her cope.
"Look, sometimes a simple chocolate gets you through some tough times. I really love unwinding by tending to my 100+ indoor plants (it's not an addiction, it's just a very passionate hobby). I also love unwinding by spending time with my amazing partner and connecting with my friends. I sometimes indulge in some gaming to unwind and connect with friends that way too. I am a big believer in self-reflection and accountability as a form of self-care, so often my way of unwinding looks like digging deeper into the problem and deeply assessing it. I have a wonderful friend who helps me do this actively and I am forever grateful for her commitment to our friendship".
When she's not watering her plants, you'll catch Jazz connecting. Jazz is the kind of person who makes an effort to include others in her team and share a good laugh. "The biggest highlight for me while working at SunnyKids is being surrounded by a team who have taught me to believe in myself. They have brought awareness to my capacity and capability and have never given up on me when I've needed the help to step into my own. I enjoy working with people who I genuinely admire and who inspire me to always be better and do better. But also, when Helen (our invaluable volunteer), simply tells me there's cake in the kitchen, instead of asking me how I'm doing. That is pretty amazing and I wish more people offered me cake like that," says Jazz.
When asked what advice she'd offer someone wanting to work in the domestic and family violence space, she highlights the importance of being aware of your unconscious bias. "Be ready to assess your biases the good, the bad and the ugly. No matter how well you feel you are across your emotional intelligence and how you view the world, something will creep up on you that unravels the way you feel you understand things. If you can be open to all possibilities and perceptions and that no one way is right, you will be able to connect with people from all walks of life and provide congruent and authentic support," she says.
The nature of working in this space means for many frontline workers they see firsthand how utterly cruel some people can be and as a result, just how vulnerable and in despair many of our clients are. When they're in the thick of a complex case and navigating everything that goes alongside that, they're forced to learn a lot about themselves, including their strengths and weaknesses.
"During my time at SunnyKids I think my entire person has evolved. I'd like to say I have 'changed', but I think I was always this person, I was just never able to step into who I wanted to be and kept it hidden away on the inside to be safe. I have learned to be confident, how to draw boundaries, how to be accountable and how to have healthy relationships. SunnyKids has taught me to not be afraid of calling myself a feminist, to not be afraid of self-advocacy and to always act on situations that are not okay or not safe. SunnyKids has also taught me that it is possible to have a management team who does provide a real environment that genuinely cares about their workers, their well-being and their comfort. So now I won't settle for less," says Jazz.